Compressors
Here you find an extract of our compressors.
High efficiency
Low revolution speed
Low maintenance
Screw compressor type SR
Stationary screw compressor with re-cooler
Smooth running, low maintenance, easy to handle
Compact and space saving assembly space
Long service life due to low rotating engine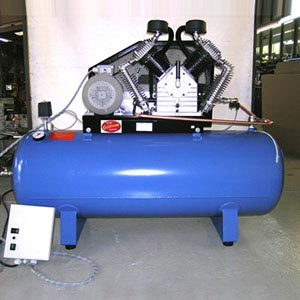 Piston compressor
Stationary version
Aggregate mounted on horizontal tank
Also appropriate for occasional use
Easy to handle and low maintenance
Option: With sound insulation
500 litre tank
Standing version
galvanized (zinc coated)
Perfect for downstream use after the compressor to minimize the operating cycles and to separate the remaining condensate
Also possible in versions with 1000 litres and 2000 litres!
Air dryer type SD
For drying the air: to remove condensate out of the air some units need an air dryer
Generally necessary for painting plants
Movable compressor G800B
Small movable fuel compressor with 2 pistons for high efficiency and low dead weight
Two compressed air tanks which are mounted at the bottom decrease the operating cycles and increase the service life
Also available with integrated emergency power supply!
If you have further questions or if you need detailed information or individual advice please click here, to leave a message or contact us under the following address:
Friedrich Goldmann GmbH & Co. KG
Neckarhauser Str. 29
68229 Mannheim
Tel.: +49 (0)621 400 489 80
E-Mail: info@f-goldmann.de