Sandblast Cabins – Shot Blasting Units
Here you find an extract of our shot blasting units.
For surface treatment of bulk material
Shotblasting units in different diameters and with different motor drives
Monodisc and double disc turbine wheels
Driven directly or by belt
Separate dust extraction device according to the requirements with downstream HEPA filter up to 0.005 mg/m³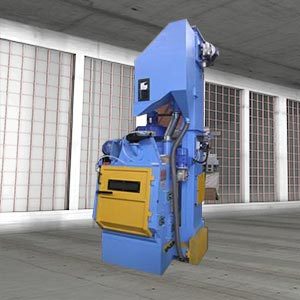 Rubber belt tumbling shot blasting unit
Shot blasting unit for the treatment of bulk goods
Perfect for the deburring and cleaning of bulk goods
Belt can be made out of rubber with different perforations or made
of manganese steel
Filling starting with 40 l / 100 kg up
Cavity: from Ø 500 mm x 500 mm upwards
Also available with skip loader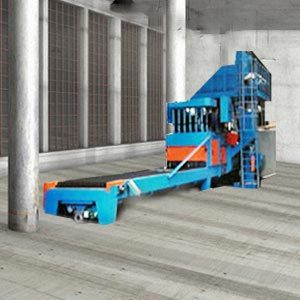 Throughput shot blasting unit
Throughput blasting unit for the paint stripping, roughening or
shot peening of the surface
Treatment from top or – if desired – also completely from all sides with subsequent cleaning of the surface
Suspension shot blasting unit
Shot blasting unit with crane hook to be fed by suspension device or big single parts
Monorail type or Y-rail with manual or automatic feeder
Suspension: from Ø 600 mm x 1000 mm / 250 kg upwards
Also available as roundabout!
Turn table shot blasting unit
Shot blasting unit with turn table for the treatment of goods from one side which are no bulk goods
Load: from Ø 500 mm / 200 kg upwards
Parabolic rollers shot blasting unit
Shot blasting unit with rotating workpiece transport
Sandblast covers the shell surface of rotationally symmetrical parts (tubes / containers / rods) completely
Transport function is independent of the diameter of the workpieces
The parabolic roller blasting unit has been developed to treat pipes, tanks, bars from outside. When moving forward, the pipes are also rotating so that the sandblast jet can treat the outer surface completely. This transport system during the blasting process is applicable for all diameters when these parts are axially symmetric.
If you have further questions or if you need detailed information or individual advice please click here, to leave a message or contact us under the following address:
Friedrich Goldmann GmbH & Co. KG
Neckarhauser Str. 29
68229 Mannheim
Tel.: +49 (0)621 400 489 80
E-Mail: info@f-goldmann.de